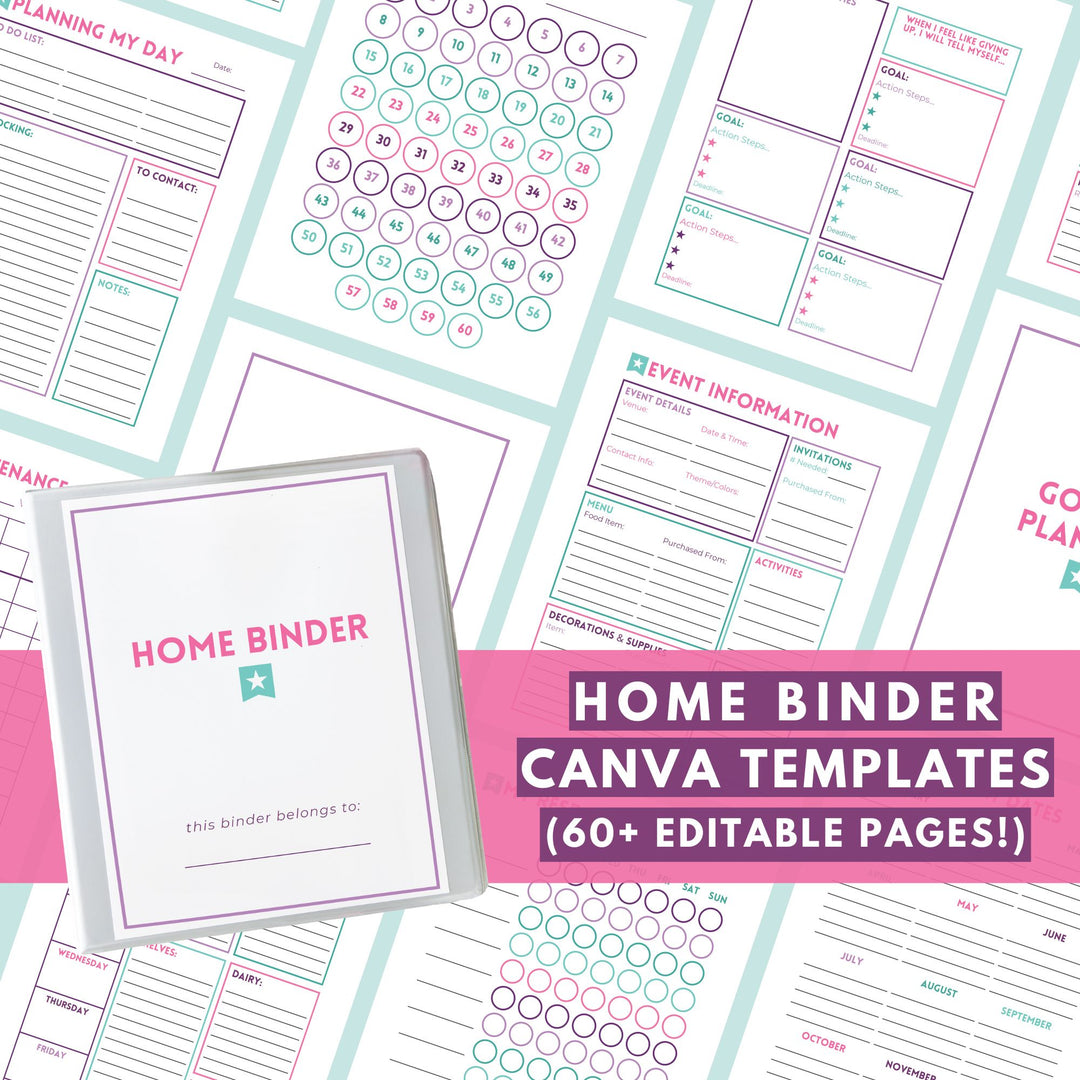 Editable Home Binder Canva Templates
Editable Home Binder Canva Templates
Regular price
$4700
$47.00
Sale price
$1800
$18.00
Save 62%
FINALLY! PRINTABLES YOU CAN CUSTOMIZE TO WORK FOR YOU!
If you've ever wished you could make a few tweaks to the printables you find online, these editable templates are for YOU!
With your free account at Canva.com, you can change the colors, fonts, layout, and more on 60+ pages of pretty printables, giving you the exact printable you need to get organized!
WHAT'S INCLUDED
🌟 A short, easy-to-follow demo video to show you how to download your templates and make changes in Canva
🌟 60+ customizable pages of pretty Home Binder printables, including...
Binder and Section Covers
Goal Setting Printables
Monthly, Weekly, and Daily Planning Pages
Grocery Lists and Meal Planners
Kitchen Inventory Pages
Medical Printables
Cleaning Plans
Project and Event Planning Pages
Vehicle Maintenance Printables
Travel Printables
Kids' Printables
Pet Printables
And More!
🌟 A PDF version of the Home Binder so you can use it exactly as it is if you'd like!
It is now even easier to create your favorite printables, using these helpful Canva templates as a starting point! Grab them today, and let's get organized! 💕 
Note: These printable templates are for personal use only and may not be sold or redistributed, even after they are edited. For licensing information, please email our team at hello@justagirlandherblog.com.
Home Binder Cover

Goals & Planning Section Cover
✨ Setting Goals by Category
✨ Setting Goals by Priority
✨ Blank Monthly Calendars
✨ Week at a Glance
✨ Two-Page Weekly Spread
✨ Daily Planning Printable
✨ Project Planning Printable
✨ Habit Tracker

Food and Meal Planning Section Cover
✨ One-Week Grocery List
✨ Two-Week Grocery List
✨ Grocery List by Store
✨ Meal Planning Printable
✨ Holiday Meal Planning
✨ Refrigerator Inventory
✨ Freezer Inventory
✨ Pantry Inventory

Health and Fitness Section Cover
✨ Fitness Tracker
✨ Medical Information
✨ Visits to the Doctor

Cleaning and Organizing Section Cover
✨ Cleaning Log
✨ Cleaning Plan by Interval
✨ Cleaning Plan by Zone

Birthdays and Gifting Section Cover
✨ Perpetual Calendar Printable
✨ Gift Giving Guide
✨ Event Information Sheet

Lists and Logs Section Cover
✨ Password Printable
✨ Call Log Printable
✨ Vehicle Maintenance Logs
✨ Travel To-Do List
✨ Travel Plans Printable
✨ Packing List
✨ Notes Page (Lined)
✨ Notes Page (Blank)

For the Kids Section Cover
✨ Info for the Sitter
✨ Chore Chart
✨ School Information
✨ Visits to the Doctor
✨ Vaccination Record

For the Pets Section Cover
✨ Visits to the Vet
✨ Pet Vaccination Record
After checkout, digital PDF files will be delivered to your email inbox to give you access to the Canva templates. This is a digital product. Nothing physical will ship.